Pfizer Healthcare Ireland
in collaboration with RCSI and AMR Ireland
bring you a free-of-charge event
'AMR: Can we change a resistant culture?'
on 19th November 2020, 19:00-21:00
Approved for 2 external CPD credits from ICGP.
Time

Agenda Topic

Presenters

Professor Hannah McGee PhD, DSc, FEHPS, FESC (Dean of the Faculty of Medicine and Health Sciences, RCSI

'AMR – A One Health Challenge'

Professor Dearbháile Morris, NUIG

'Impact of COVID on Community Antibiotic prescribing Ireland'

Dr Nuala O'Connor, GP & HPSC

'Handle antimicrobials with care': the theme of World Antimicrobial Awareness Week 2020 (pre-recorded)

Professor Dame Sally Davies, UK Special Envoy on AMR

Panel Q&A chaired by Dr Fidelma Fitzpatrick,
Consultant Microbiologist
(Beaumont Hospital)

Dr Fintan Kelleher, AMR Ireland
Ms Marie Philbin, HPSC
Professor Pete Lunn, ESRI
Mr Yannis Natsis, EPHA


Dr Declan O'Callaghan, Pfizer Medical Director
AMR = antimicrobial resistance, CPD= continued professional development, NUIG = National University of Ireland Galway, GP = General Practitioner, HPSC = Health Protection and Surveillance Centre, ESRI = Economic and Social research Institute, EPHA = European Public Health Alliance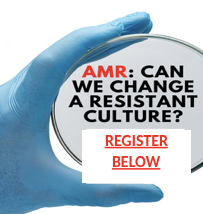 In Europe about 33,000 people per year die as a direct consequence of drug resistant infections.1
AMR-related healthcare costs and productivity losses amount to 1.5bn annually.2
Tackling AMR requires the combined efforts of policy leaders, pharmaceutical companies, healthcare professionals and patients.
References:
1. Alessandro Cassini, MD et al., "Attributable deaths and disability-adjusted life-years caused by infections with antibiotic-resistant bacteria in the EU and the European Economic Area in 2015: a population-level modelling analysis", The Lancet, Volume 19, Issue 1, P56-66, January, 2019.
2. ECDC/EMEA Joint Technical Report, The bacterial challenge: time to react, Stockholm, September 2009.
PP-AIP-IRL- 0203
Date of Prep: Nov 2020